Wow, it is HOT in the south suddenly! The extreme heat and humidity has me scrambling to find ways to beat it and cool off. Speaking of which, Chelle has an adorable digital scrapbooking kit perfect for hot weather activities called Beat the Heat. It is loaded with ice creams and other frozen treats but without all the calories and mess! Her creative team members have made a couple of great pages to give you a taste for this great kit and its word art package.
First, Leslie had some delicious photos of her boys and her friend Valerie eating at the Denville Dairy, a restaurant in New Jersey famous for its home made ice creams. Her use of the Neapolitan colors from the kit scream ice cream, and the little touches of blue she used form a perfect visual triangle to guide a reader's eyes around the page. I love her use of the conversation bubble for her journal spot.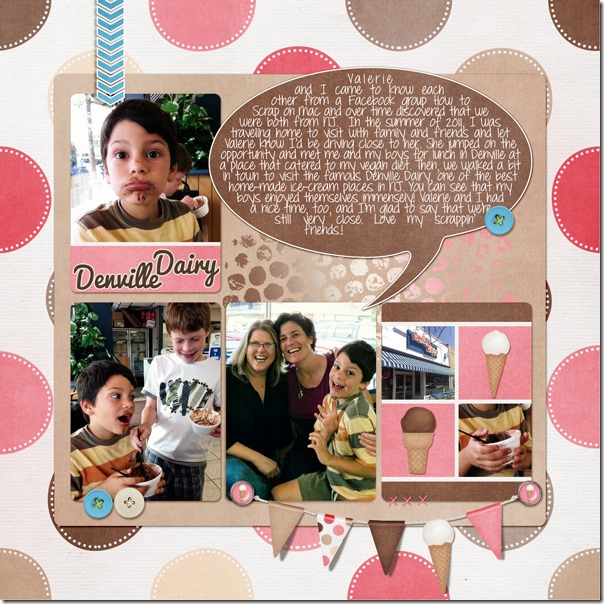 Mel chose to use  the brighter colors in the kit, and look how different her page is from Leslie's! Isn't this kit versatile? I love how Mel has used a pink flower and frame for her daughter's picture; it really brings out the pink in her cheeks. I also love the way she split the words of the title and has them going up and down opposite sides of the page.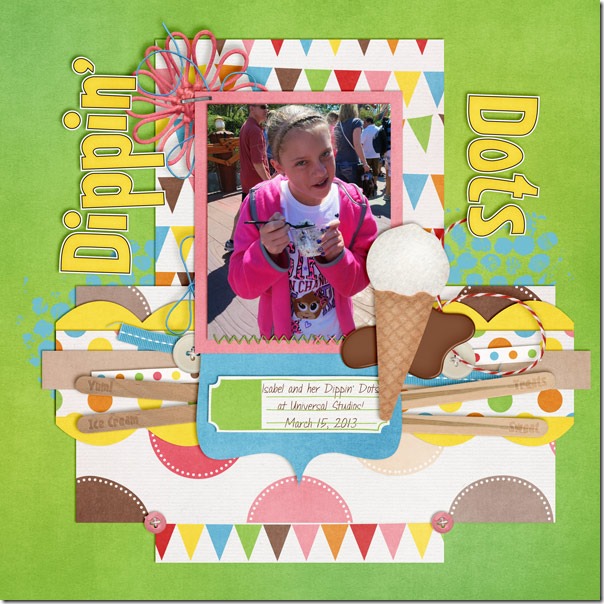 Did you notice the words on sticks on Mel's page? I love those, and I want to show you a closer look of those as well as the preview of the kit in the market. In case you don't have this classic kit yet, the images are linked to the market.