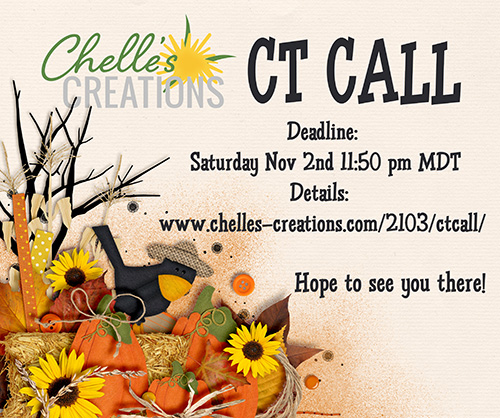 Hey Scrappers!  I'm looking for enthusiastic scrappers who love to create with Chelle's Creations products and are excited to share their creations.
Here's a few of the details:
Requirements:
4 layouts per month (2 assigned, 2 free choice) posted in 4 high traffic places.
Up to 6 special projects per year (make a cluster/quickpage/etc)
Participate in forums & promote Chelle's Creations
Benefits:
full access to my personal use items & CU items for personal use.
fun & friendship.
Full time spots require a commitment of at least 6 months.  Guest spots are also available.
To apply, complete this form.
Deadline to apply is Nov 3rd at 11:59 pm MDT.
Hope to hear from you soon!